Value of Impact Factor for 2014 is 0.292
NOTICE
The Editorial Board of the Journal, from the beginning of the next year, will demand that all authors (if there are two or more) of the manuscripts submitted to the VSP Editorial Office, sign a statement of his/her contribution to the work that will be published at the end of the article under the heading "Author contributions".
Another novelty refers to the requirement to sign the statement by each author declaring any potential conflict of interest (Statement of conflicts of interest), which will also, starting from January 2013, be a part of the documentation required in submitting manuscripts to the VSP Editorial Office.
The Journal is published monthly. Subscription: Account in Uprava za javna plaćanja in Belgrade. Giro Account No. 840-314849-70 – VMA (za Vojnosanitetski pregled), refer to number
12274231295521415. To subscribe from abroad phone to +381 11 3608 997. Subscription prices per year: individuals 5,000.00 Din, institutions 10,000.00 Din in Serbia, and foreign subscribers 150 €.
From January 1, 2012 the Vojnosanitetski pregled is going to be edited using the service e-Ur: Electronic Journal Editing.
All users of the system: authors, editors and reviewrs have to be registrated users with only one e-mail address.  Registration should be made on the web-address:
ON THE LINK BELOW YOU CAN FIND THE ONLINE FIRST PUBLICATIONS
The latest issue VSP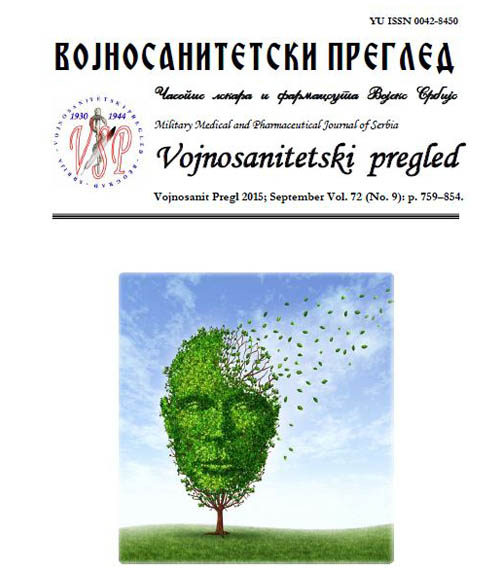 The Vojnosanitetski Pregled has a 2014 impact factor of 0.292.