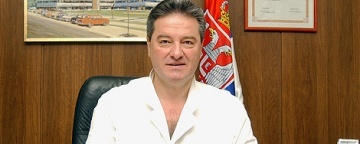 BLIC: Military Medical Academy is open to everyone
02. 02. 2009
 Belgrade, February 2 - In the interview given to the daily newspaper BLIC, Major General Prof. Miodrag Jevtić, MD, PhD said that the Military Medical Academy is, and will remain, an integral part of the Ministry of Defence.
''However, 40% of the Military Medical Academy's healthcare capacity is integrated into the Public Health Care System of the Republic of Serbia, and it covers all the segments of the medicine, inpatient treatment and diagnostics. Thus, everything we do in this hospital is available, under the same conditions, to all our citizens,'' said General Jevtić to ''BLIC''.

That is the reason why military patients fear that, now, they would be deprived of adequate treatment.

Over the recent period, there have been some malicious people attempting to discredit enormous efforts the Military Healthcare Services are making. They are trying to upset one category of the military patient population, which is our target group. The Military Medical Academy is a military medical institution and who else but the military patient population it would serve. Three years ago, we were in a very uncertain position. We put a lot of effort and, supported by the officials from the Defence Systems, we succeeded in convincing our state leadership that the Military Medical Academy represents our national treasure of great importance. We are now a referral institution in the field of medicine, a regional leader for the military medical education and one of the brands of both the country and its Armed Forces on its path towards international integrations.

Do international patients seek healthcare services with the Military Medical Academy and how many of them do you have?

In spite of difficult times, there is a great number of foreign citizens visiting our institution for various purposes such as treatment, education and training in various fields of medical science and profession. For instance, we have patients coming from all former Yugoslav republics. They are well aware of the fact that the Military Medical Academy is well-organized institution, which has managed to preserve its capacities and a great number of high quality medical professionals capable of treating patients according to the world's most advanced medical trends. We treat the whole Diplomatic Corps accredited to our country as well as managers of foreign companies based in our country.

Do you provide medical support to the state leadership?

We are not the only institution designated as the only place where the state leadership is to be treated. There is a large number of our dignitaries, state officials and ministers seeking medical services with us, but it is a professional secret, and I can not openly discuss that.

What are the greatest medical achievements you apply?

We have achieved outstanding results in the field of neurosurgery, chest surgery, orthopedic surgery, transplantation surgery, eye surgery, endovascular surgery, intervention neurology as well as in other branches of medicine – internal medicine, neuropsychiatry, preventive medicine, pharmacy and dentistry. Application of stem cells according to the scientific methods in the treatment of the most severe diseases in patients in whom all other treatment options have been exhausted is one of the examples that we do follow the latest medical achievements of the world. .


How many employed physicians do you have and how much are they paid?

We have around 3000 employees. The largest number of them is medical staff members. Currently, we have 470 physicians, 46 dentists and 36 pharmacists. The others are medical professionals of other profiles. As far as their salaries are concerned, they are never sufficient. We have taken big steps in relation to the previous period when their salaries were very low and when, due to that, a number of prominent experts resigned from the Military Medical Academy because they had found better-paid positions in other institutions, particularly in private healthcare facilities. Now, our salaries do not lag behind the salaries of the physicians from the Clinical Center of the Republic of Serbia and the other centers as well. However, we have also made one step forward by allowing our outstanding experts to earn much more money through voluntary overtime work.

What is the health condition of His Holiness Patriarch Pavle ?

All the information about the current health condition of His Holiness you can obtain from the Holy Synod, which receives daily reports of the MMA medical expert team on the health condition of His Holiness Patriarch Pavle.

Patriarch Pavle is accommodated in one of your apartments. How many such apartments do you have?


We have patient rooms ranging in size from single to six-bed rooms for accommodation of patients according to the severity of a disease and the category of a patient. Each department holds one apartment, which is not always reserved for the privileged ones. It is often used for accommodation of patients requiring specific treatment. We have one department with five apartments mostly intended for patients requiring, due to safety reasons, such accommodation. Apart from many compliments about the Military Medical Academy, you can also hear some patient complaints about the performance of its personnel.

Recently, we have got a letter of critics. How many complaints do you receive and how are they dealt with?

Of course, there are patients who are not satisfied, but such complaints are rather rare. It is not logic to expect from us to provide every patient with the possibility of being served by one healthcare worker. We do not have sufficient number of them. Majority of patient complaints refer to the waiting time for receiving some services. Our intention is not to have those waiting lists but, our capacities and capabilities are, sometimes, limited that we are forced to make them. There are some individual complaints made about the on-the-job- performance of some staff members. We regularly investigate them on a case-by-case basis and, if they prove to be justified, we then take adequate steps in response. We also have the team for the protection of patients' rights, which reviews every patient complaint. .

How many patients admitted to the Military Medical Academy for hospital treatment do you currently have?

Each day, this institution is visited by more than 10 000 people for various reasons. One small city comes to the Military Medical Academy every morning. 93,2 % of its bad capacity is filled, that is 1.114 hospitally treated patients. Our Outpatient Diagnostic Clinic is overcrowded and admits from 2.500 to 3 000 military and civilian patients daily.