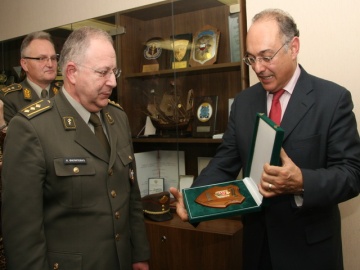 Hungarian Defense Minister in the Visit to the MMA
22. 03. 2010
Belgrade, March 22, 2010 – Within the framework of the official visit to our country, Hungarian Minister of Defense, Mr. Imre Sekereš accompanied by his associates paid a visit to the Military Medical Academy. During the visit, the MMA's Management Board's representatives introduced the prominent guest into the capabilities, capacities and the most important results of our institution achieved in the fields of treatment, education and scientific-research, and reviewed the possibilities for further enhancement of the military medical cooperation between those two countries.
The members of the Hungarian delegation were taken by the host to a tour around the Clinic for Internal Emergency Medicine.
'I am honored to have the opportunity to raise my awareness of the accomplishments and capabilities of such an important institution well-known and recognized even beyond the borders of Serbia', said Hungarian Minister at the end of the visit to the Military Medical Academy.
The MMA's delegation during the today's discussions was headed by the deputy head of our institution Col. Prof. Dr. Nikola Filipović and included members of the Management Board: Col. Primarius Milorad Rabrenović, civilian employees Prof. Dr. Mirjana Životić-Vanović and Assist. Prof. Dr. Elizabeta Ristanović, the dean of the MMA's School for Advanced Medical Studies, Academician Col. Prof. Dr. Miodrag Čolić, and our prominent expert Prof. Dr. Bela Balint.
Participation in the discussions held at the Military Medical Academy was also taken by the head of the MOD Department of Health, Brigadier General Assist. Prof. Dr. Veljko Todorović, and the head of the AF GS Department of Planning and Development, Major General Božidar Forca.