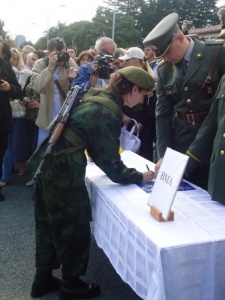 Official Oath Taking Ceremony
24. 09. 2010
Belgrade, September 24, 2010. – The official oath ceremony for the future reserved officers of the Serbian Armed Forces, MMA Reserve Officers School and  students undergoing medical and veterinary training programs as well as sports  platoon soldiers of  September 2010 generation was held today on the plateau in front of the "General Jovan Mišković" barracks in Belgrade.

The future reserve officers and the members of the Medical and Veterinary Services of the Republic of Serbia Armed Forces were addressed by the Brigadier General, Assist. Prof. Dr. Mladen Vuruna. He wished the students success in their future professional career.
 
At the today's ceremony, 11 students undergoing Medical and Veterinary Services training program, and 21 students of the 98th Class of the Medical Service Reserve Officers School and 96th Class of the Veterinary Service Reserve Officers School took the military oath.