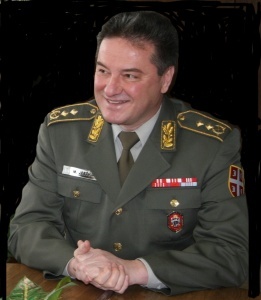 The Interview of the MMA head to the daily newspaper PRES
06. 10. 2008
Belgrade, October 6 - PRES in the visit to MMA
The interview of the MMA head Major General Prof. Miodrag Jevtić, MD, PhD, given to the weekly magazine of the PRES daily newspaper.
House of the last hope 
After the years of crisis, the former federal state and all its institutions were faced with, the Military Medical Academy has again become a regional healthcare center. Great results have been achieved, but we can always do better' said Dr Miodrag Jevtić, the head of this institution.
''By becoming an integral part of our National Health System, we could reduce the workload of other hospitals, make time on waiting list shorter for patients and consolidate our financial status as well''
It is called a temple of science and medicine, the house of health but the house of the last hope as well. It exists for more than one and half centuries, but, today, many identify it with a newer and beautiful building on the Banjica hill. It was also called without any reasonable reason 'a forbiden city', a place reserved for those who, among many other previlegies, have priority in the struggle for life .However, majority of physicians, a great number of generations of experts and a whole army of patients who visited this institution, consider it a theater of century-long fight against a disease. One's name, status or position in the society has never ment something special here.
Recently, we have had the honor and previlege to be taken to a tour of this edifice by Major General Prof. Miodrag Jevtić, a man to whom the military and medicine are the only two passions in his life. We say a previlege, because when the man you are talking with is the first man of this institution, a whole small city visited by more than ten thousand patients every day, every minute is, therefore, precious to you.
''I have no intention of gloryfing the Military Medical Academy, to speak about it in a manner that might interfere with somebody, but it is the institution of national importance ''' said Dr. Jevtić. The fact that we exist for almost 165 years, much longer than some countries in the world, speaks for itself. The greatest heritage of our decades-long existence is reflected in a vast experience we have gathered so far, knowledge we have acquired from our teachers. However, we want to achieve more. We are always trying to go beyond our limits, to make ourselves much better, more successful, efficient and provide every patient with the finest in healthcare service regardless of his/her status- whether he/she is a patients with military or civilian insurance, self-referred, referred by a practitioner or self-pay patient. Moreover, the fact that our institution is visited by people living outside Serbia, by those who hope their problems could be responded to in the easiest way indicates that we are on the right path.
Medical personnel say that their work at the Military Medical Academy is based on principles that integrate three main segments – patient care, education and science. It means an entire health system with the capacity to respond professionally and efficiently to any disaster, particularly to mass or natural catastrophes. How efficient they are in handling those problems, figures rather than words speak for themselves. There are 470 physicians, 40 dentists, 36 pharmacists and more than 1.400 medical nurses-technicians of all profiles. We should add to those figures a very impressive teaching-scientific corps comprising 135 professors, 186 doctors and 78 masters of science what, thus, make a representative composition that raise a hope and instill trust and confidence. However, we could not avoid asking who are the people privileged to use their services.
There are only rumors that the Military Medical Academy is the institution intended exclusively for the military and the social elite – says Dr. Jevtić. This is a military instalation, and we are proud of it. But, throughout its history, it has never closed its door to anyone or hasn't responded to anyone's disaster. Every patient is important to us and everyone has the right to be treated in the same way. However, since January this year, we have officially become an integral part of the Health System of our country, meaning that we are now available to all the citizens. It will also help us reolve some other problems, make ourselves much better and more efficient in our work.
That means that 40% of our total capacity would serve our citizens on the basis of their GP's referral. It is also important that, through that integration, the Military Medical Academy has eventually found its place in the society. Namely, as a state institution of the country that doesn't exist any more, the Military Medical Academy itself was in a particular vacuum.
''At one moment, we have found ourselves in a very tough situation threatening even to abolish the military health service''- says the General. It did happen in some surrounding countries, but fortunately that idea was abandoned here. By taking this solution, we haven't consolidated our status only but have considerably unburdened the budget, and placed ourselves in a position not to owe anything to anyone.. Not a single penny. Thus, we have reduced the workload of some other hospitals, made waiting time shorter for patients and brought ourselves in a position to be capable of providing everyone with our help. I do believe that we would become a part of the academic and scientific–research system., meaning that our country would recognize its interest in this segment of our work.
Scientific-research is the activity we always give a significant attention to. There are so many accomplishments and breakthroughs that rank our institution among the most important institutions in the Balkans and Southern Europe. At this very moment, we are working on two mega projects including more than 50 scientific-research tasks. Major part of this research is of an enormous importance for both the country and its military, but they are all funded by the Military Medical Academy budget. We also hope that, in the near fututre, the state would give its contribution as well. In addition, we also pay a great attention to education and training of our personnel. Last year, more than 50 young people were sent abroad, from Houston to Tokyo, for education and training purposes.
'Highly qualified and high-quality staff represent one of our greates assets' – says Dr. Jevtić. We have sent our people abroad to build their awareness of the latest world achievements and to acqire knowlegde they would translate into their practice. It may be a reason, why some of the most complex surgical procedures are being performed almost routinely, why, according to many parameters, we are considered a respectable healthcare facility not only in Serbia, but in this part of Europe as well.
Our results speak in favour of that too. In the course of the last year, we performed even five liver tranplants, which are the most complex and complicated surgical procedures. Kidney or bone marrow transplantation, for instance, is, for long, a routine practice. Moreover, there are some researches taking place in the field of stem cells application and cellular therapy, which have even now given some good results in cases where all other possibilities have been exploited. Or, let's mention the filed of ophthalmology, where high dioptry problems are solved for only several minutes.
Of course, much more and better can always be done, and that is a motto of our General. The Military Medical Academy has, since long, become a leader in many fields of medicine at the regional level. It does not take such a position in some other fields, but there is a hope that it would happen very soon. However, the most important is that MMA has become a facility serving all our citizens, all those who were involved in its foundation and centuries-long development.
Vlada Arsić
A hospital as a smal city
The Military Medical Academy has 27 clinics, 17 institutes, Poison Control Center, Trauma Center, Emergency Center, Organ and Bone Marrow Transplant Center ....There are between 3,5 and 4,000 visits made only to Outpatient Diagnostic Center each day. The Military Medical Academy has 2672 staff members. Another 1200 are recruited for additional and extended work. It has the capacity of 1,200 beds and there are an estimated 30,000 hospitalizations and around 20,000 surgical procedures performed per year