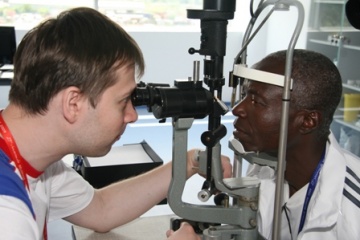 The highest appraisals for the MMA's engagement in the Universiade 2009
15. 07. 2009
Within the framework of providing medical support to the Universiade 2009, around 300 MMA's medical staff members were engaged in providing round the clock medical services at the MMA's Polyclinic in the University Village and competition area.
During the period of competition, the MMA's medical teams made on average 180 interventions per day. The most often were associated with sports injuries involving the extremities-distortions and fractures. Of diseases occurring among the Universiade participants, the most common were respiratory tract infections and allergic skin reactions. From the time of the arrival of the Universiade participants to Belgrade and during competitions, the MMA's preventive medicine specialists carried out 750 analysis of food and 140 analysis of water each day.
The highest representatives of the International University Sports Federation (FISU) expressed their satisfaction with the MMA's capacities, capabilities and the engagement of its personnel during the duration of the competition.
The FISU president George Kilian said to the Serbian media that medical support provided to the sport manifestation was at the extremely high level.
''It is one of the most important part of the Universiade system. I would like to congratulate the Military Medical Academy for the excellence in providing good health care for the Unversiade participants'', said Kilian.
The FISU Secretary General, Eric Santron saluted the MMA as well stressing that the Medical Center in Belville had met the highest world standards.
''I am pleasantly surprised with the way the MMA's Polyclinic in the University Village is equipped and operated. It is the best polyclinic we have had during all the universiades. Reaction of people was also extremely positive'', said Santron.
Dr. Lawrence Donald Rink, the president of the FISU Medical Committee thanked the MMA's Management and all its medical staff members for all the efforts they put in providing medical support to the Universiade 2009.
'' We are extremely contented with the cooperation we have established with the Military Medical Academy. I am congratulating you on excellent organization, demonstrated high standards and professionalism'', said Dr. Rink.