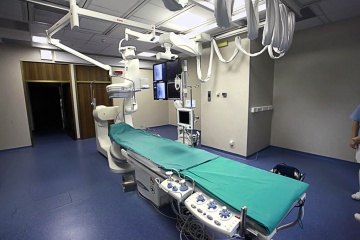 A New Angiography Unit at the Military Medical Academy
21. 10. 2011
Minister of Defense
Dragan Šutanovac officially opened a new angiography suite in the MMA's Center for cardiovascular pathology. Since today, the capacities of the Center will be extended to allow for performance of 1 000 procedures a year as well as the state-of-the-art diagnostic procedures, and the treatment of cardiovascular diseases according to the highest standards.
After the opening ceremony, Minister Šutanovac said that it was about the most advanced apparatus of its kind existing in the world that can be bought.
''It is the second angiography suite we have opened over the last two years, what shows that we are devoted, essentially not declaratively, to the of advancement of working conditions at the Military Medical Academy, and the improvement of treatment of those who need it, including both military and civilian patient population'', Minister said and added that it was investment worth about 65-million dinars, which would greatly increase the effectiveness of that institution in the treatment of coronary diseases.
Minister also expressed his expectations that this sophisticated equipment would attract international patients, who have lately become more interested in the MMA's services, and hopes that knowledge sharing programs at the international level would very soon be initiated.

The MMA's head, Col. Prof. Dr. Marijan Novaković said that putting this new angiography unit into operation is a part of the event celebrating 3 decades of the MMA's work.
''Everyone is, unfortunately, well aware of a great increase in the number of coronary diseases, what requires both technological progress and professional development. Therefore, we have renewed our capacities that serve all our patients'', Col. Novaković pointed out, and added that, according to current statistics, that apparatus would allow for additional 2500 patients to be diagnosed and treated.