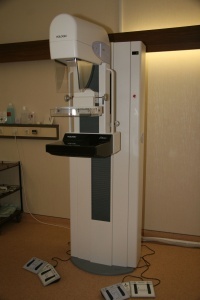 A New Digital Mammography Equipment was Set up
06. 08. 2008
 Belgrade, August 6 - The Military Medical Academy, a new digital mammography was implemented to the Institute of Radiology. This new digital mammogram machine of the latest generation "HOLOGIC SELENIA", along with qualified and trained personnel offers a powerful weapon for fighting one of the most severe disease of the contemporary world- breast cancer. Technology solutions with implementation of digital mammography systems ensure considerable reduction of scattered radiation, production of better image contrasts and improvement in diagnostic accuracy of digital mammography.
This digital mammography unit is also equipped with special devices for targeted mammographic needle biopsy (sterotaxy) by motorized motions of biopsy needle under vacuum with the accuracy of 1 mm within the patient's breast, what is of crucial importance for early breast cancer detection and treatment.
The procedure is performed under local anesthesia and allows the patient to leave the hospital almost 15 min. after the intervention.