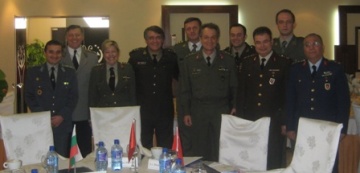 Activities of the Balkan Military Medical Committee
22. 03. 2010
Belgrade, March 22, 2010 – The MMA's experts Col. Prof. Dr. Đoko Maksić and Major Assist. Prof. Dr. Boban Đorđević represented our country at the Balkan Military Medical Committee Pre-congress Meeting held in Drach (Durres), Republic of Albania, on March 11-13, 2010.
The representatives of the Committee member states addressed all actual issues related to the Committee's work and activities of the working groups at the meeting.

The BMMC Committee member states' delegations stressed that they highly valued overall activities and significant contribution of our Medical Services made by organizing the Course on Emergency Military Medicine at the Military Medical Academy in the late 2009. It was also agreed to set up a working group within the Committee to deal with Telemedicine.

All activities closely conected with the preparation of the forthcoming 15th BMMC Congress to be held in Greece on May 30-June 03, 2010 were thoroughly considered. The main topic of the Congress would be related to the Military Preventive Medicine, and it would include several round table discussions on prevention of infectious diseases, mental health disorders, Emergency Military Medicine, the role of Military Medicine in mass catastrophe situations as well as new trends in Diving and Aviation Medicine to be held within the framework of Congress activities. Novelties in organizational structuring of Military Medical Services of the BMMC member states would be another issue discussed at the Congress.
 
The BMMC permanent member states are Bulgaria, Greece, Romania, Serbia and Turkey. Full BMMC membership would be awarded to a new member state – the Republic of Albania, whilst letters of invitation for BMMC membership would be sent to candidate states -Bosnia and Herzegovina, Montenegro, Former Yugoslav Republic of Macedonia and Moldavia.