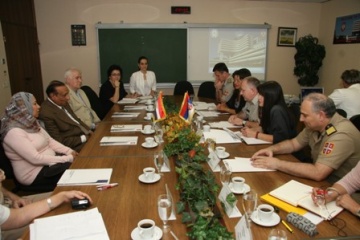 Advanced Training of Medical Nurses from Egypt at the MMA
02. 07. 2010
Belgrade, July 02, 2010. – The Delegation of the Egyptian Ministry of Defense consisting of Major General Mohamed Hosni Hanza Ibrahim and Col. Mona Jusuf Mohamed Mahmud were in a two-day visit to the Military Medical Academy to negotiate the education and training our institution could offer to the Egyptian military medical nurses in the fields of intensive care, surgery, physical therapy and rehabilitation, chemodialysis and radiological diagnosis and therapy.
At the initial meeting attended by the members of the MMA's Management Board headed by the deputy head Col. Prof. Dr. Nikola Filipović, the guests were introduced into the ID of the Military Medical Academy, its organizational structure and results achieved in the fields of education, advanced training and scientific research followed by short presentations of the MMA's organizational units where education and training of Egyptian medical nurses should take place as well as  the units' respective areas of  responsibilities with the special focus on the role of medical nurses. Following the meeting, the Egyptian delegation members were taken to a tour around those units.
Availing himself of that opportunity, Major General Mohamed Hosni Hanza Ibrahim said that he was very happy for being in the institution such as the Military Medical Academy was, the institution he knew a lot about, but everything he saw during the tour exceeded all of his expectations. 'I am familiar with the fact that, over recent years, you have made a great step forward on the world medical scene', he stressed expressing his impressions about extraordinary organization and functioning of the Service within the Military Medical Academy. Commitment of the Egyptian side to send medical nurses to MMA for further professional development and training     was based on the facts that the qualification level of MMA's medical personnel is high and the   MMA's has excellent accommodation capabilities   allowing for the nurses to be housed in the same facility where the didactic and practical and training would take place', said the Egyptian General.
During the talks, details concerning training programs for medical nurses and dynamic of their training were negotiated. Other possibilities to establish cooperation between the two countries within the bilateral cooperation framework were also overviewed.
During their visit to Belgrade, the members of the Egyptian delegation were given a warm reception by the head of the MOD Department of Military Health, Brigadier General Assist. Prof. Dr. Veljko Todorović and his associates.