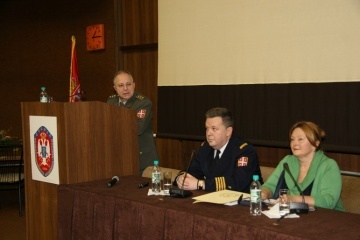 Anesthesiology Meeting held at the Military Medical Academy
15. 12. 2008
 Belgrade, December 15 - In the organization of the MMA Clinic for Anesthesiology and Critical Care, the meeting of the Serbian Medical Society's Section for Anesthesiology, Critical Care and Pain Therapy with participation of more than 250 professionals from Serbia, Montenegro, the Republic of Srpska and Macedonia was held at the Military Medical Academy. The MMA deputy head Col. Prof. Nikola Filipović, MD, PhD opened the meeting. The head of the MMA Clinic for Anesthesiology and Critical Care Col. Prof. Predrag Romić, MD, PhD introduced the present anesthesiologists into the work of the Clinic and its trends and perspectives of further professional and scientific development. 
'Gene polymorphism for TNF-x in sepsis or trauma', anesthesiological approach to the treatment of patients with tumor infiltration of the inferior vena cava and endovascular treatment of aneurism of the abdominal aorta as well as muscle relaxants of the latest generation were the topics the anesthesiologists from the Military Medical Academy spoke about. The lecturers were Prof. Maja Šurbatović, MD, PhD Major Dragan Đorđević, MD, Mr. Zdravko Brkan, MD and Col. Assist. Prof. Milić Veljović, MD, PhD.
The president of Serbian Medical Society's Anesthesiology Section Prof. Vanja Vujin, MD, PhD awarded the "Dr Bogunović" Charter to Mrs. Ivana Krstić-Lečić, MD from the MMA Clinic for Anesthesiology and Critical Care for her paper titled ''Inflammatory response in patients with sepsis or trauma'' which was successfully presented at the European Congress of Anesthesiology held in Copenhagen in May this year.