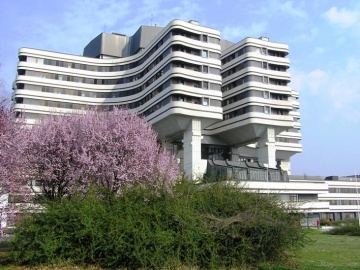 Another MMA's Jubilee: 60 Years of Scientific-Research and Educational Work
30. 04. 2010
Belgrade, April 30, 2010 – Based on the Decision of the high governmental authorities of the Former Yugoslavia, on April 30, 1950, the Military Medical Academy was founded by integration of the Central Military Hospital, Hygienic-Epidemiological Institute and Medical Officers School.

Thanks to a new organization, since 1950, teaching, scientific and professional activities of the Military Medical Academy have been carried out in line with general principles and regulations set forth in the Law on higher education institutions. Ten years later, the Federal National Assembly passed the Act on the Military Medical Academy by which it was given the status of high education institution, and some forms of its teaching activity were brought to the equitable level of those at civilian medical schools.

In the course of those 60 years, the MMA has provided various education and training programs not only to military medical personnel but national and international experts of civilian healthcare facilities. Nowadays, it offers 44 residences in health care, 12 sub-specialties and around 100 various training programs covering the fields of medicine, dentistry and pharmacy.

Over the recent period, numerous master's thesis and doctoral dissertations have been defended at the Military Medical Academy, whilst the results of scientific-research projects conducted in our institution have been published in the most prominent world scientific magazines, thanks to which the MMA's scientific potential have a good while ago been recognized outside our borders.

Professional, scientific and teaching activities conducted at the MMA's clinics and institutes involve a great number of top experts, of which some 240 hold the PhD titles.
The scientific and teaching MMA's potential was crowned with another success last year – establishment of the School for Advanced Integrated Medical Studies and enrolment of the first generation of students – cadets, future physicians of the Serbian Armed Forces.

The study programs of the School for Advanced Studies are thus tailored to provide, in addition to knowledge offered at other medical schools, acquisition of knowledge and skills required for the work within the Armed Forces Military Medical Services. Apart from graduate programs of study, PhD programs as well as 3 sub-specializations have already been accredited, and the MMA's School for Advanced Studies is expected to formally change its name very soon, and become a Medical School, and an integral part of the Serbian National Defence University, the establishment of which is underway.