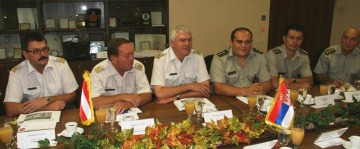 Austrian Military Medical Delegation in the Visit to the MMA
17. 09. 2009
Belgrade, September 17 – ''We can be satisfied with excellent relationships we have had with Austrian Military Medical Services in the previous period; however, we would direct our additional efforts towards making it much better and comprehensive. That will be much easier if we get to know one another much better'', said the MMA's Head, Major General Prof. Dr. Miodrag Jevtić welcoming the delegation of the Austrian Armed Forces. Within the bilateral cooperation framework established between those two countries, the Austrian delegation was paying an official visit to our Military Medical Services during which it would be in a 2-day visit to the Military Medical Academy.

Col. Dr. Harald Harbich, Deputy Head of the Surgeon General of the Austrian Armed Forces Medical Services led the Austrian delegation composed of two members: Col. Dr. Michael Krenier and LtCol. Wolfgang Theil.

The guests from Austria were introduced into the capabilities of the Military Medical Academy, the most significant results this institution had achieved in the fields of Surgery, Internal Medicine, Neuropsychiatry and Preventive Medicine. Capabilities and potentials of the Academy in the scientific-research and education area, and capabilities, results and the vision of further development of the Veterinary Training Center, in particular, were presented to the guests.

During the visit, the members of the Austrian delegation were taken to a tour of several MMA's organizational units and the Light Field Hospital Role II Headquarters.

''The Austrian Military Medical Services have a very long tradition. However, we don't have a military hospital such as yours, which is not only a grandiose piece of architecture, but an impressive medical facility operated by worldwide recognized experts in various specialties', said the Head of the Austrian military medical delegation, Col. Dr. Harald Harbich at the end of the visit.