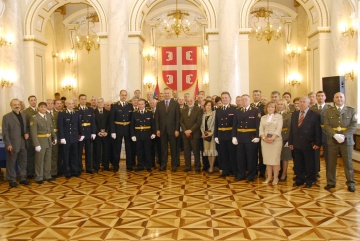 Awards for outstanding merits and results in work
19. 05. 2011
At the event held on May 19th, 2001, at the Big War Hall in the building of old General Headquarters of the Serbian Army, Gold and Silver medals were presented to members of the Ministry of Defense and Serbian Army by the Decree of the President of the Republic of Serbia Boris Tadić, for extraordinary merits and results achieved on the line of duty in defense and security sector. Medals were presented by the Minister of Defense Dragan Šutanovac in the presence of members of the Collegium of the Minister of Defense, Deputy Chief of the General Staff of the Serbian Army General Major Milan Bjelica, representatives of the Ministry of Defense and Serbian Army and family members of decorated persons. 
Among those decorated with a Gold medal for diligent service are retired Colonel, Professor Dr Sidor Mišović, former Chief of the Clinic for Vascular Surgery of MMA and military officer Professor Dr Bela Balint, Chief of the Institute of Transfusiology of MMA.
Only two days ago, on May 17th, 2011, delegation of the Ministry of Interior of Republic of Serbia, lead by Chief of Police Administration of the City of Belgrade, Chief Police Councilor Miladin Despotović, presented the Plaque of the Police Administration of the City of Belgrade to Professor Balint, for achieved results in the field of therapy application of stem cells and apheresic treatment in our country.
Cause for this was the following case. Under the management of Professor Balint, haematopoietic stem cells were transplanted to a 42-year-old patient hospitalized at the Haematology Clinic of the Clinical Centre of Serbia in Belgrade. In the post-op period, and due to difficult and long lasting agranulocytosis and general fatigue of the patient, there were some serious complications, i.e. invasive fungal sepsis caused by Candida, and it jeopardized the life of the patient. In order to prevent fatal event, aside from antimicrobial and other symptomatic therapies, a new form of treatment was introduced for the first time in our country – supportive application of granulocytes gathered at the Institute for Transfusiology of MMA, from a healthy donor through application of blood cells separator, and under the original protocol of Professor Dr Bela Balint. The so-called combined method of mobilization of leucocytes/granulocytes was conducted with the assistance of recombinant human granulocyte colony stimulating factor (rHuG – CSF) and dexamethasone. A fast and favorable laboratory and clinical effect was accomplished, with general improvement of patient's health condition – which has been maintained for over 8 months. Through application of such method a member of the Police was also successfully treated.