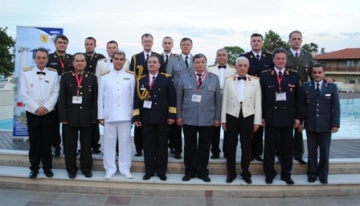 Balkan Military Medical Cooperation
09. 06. 2010
Belgrade, June 9, 2010. – The 22-member delegation of the Republic of Serbia Military Medical Services led by the MMA's head Major General Prof. Dr. Miodrag Jevtić participated in the XV Congress of the Balkan Military Medical Committee, held on June 3-6, 2010 in Piera (Thessalonica) in Greece.
 
There were 173 delegates from the BMMC active member states – Bulgaria, Greece, Romania, Serbia, Turkey and Albania as the associate member state. During the Congress, around 300 scientific papers covering the field of military medicine were delivered and round-table and panel discussion held.

The members of the Serbian delegation gave significant contribution to the work of the Congress through presentation of 42 papers, active participation in discussions and presiding over numerous sessions and round-table discussions.

In the capacity of Serbian delegation leader, the MMA's head, Major General Prof. Dr. Miodrag Jevtić  met, during the Congress, the heads of the other BMMC member states' delegations to discuss, at their bilateral meetings, further development of cooperation within the Committee framework, which would  primarily be focused on professional development and training of physician and technicians as well as sharing of experience and deployment to peacekeeping missions, and eventual collaboration and assistance in managing the consequences of natural catastrophes.

During the Congress closing ceremony, heads of all national delegations expressed in their closing speeches high appraisals for professional quality of presented papers and stressed the need for further strengthening of cooperation among the BMMC member states Military Medical Services.
  
The next BMMC Congress was scheduled for the late June 2011 in Romania, whilst, in the meantime, joint cooperative activities of the BMMC member states would continue to be carried out at the already agreed pace.
Based on the accepted initiative of the Serbian delegation's head,   Major General Prof. Dr. Miodrag Jevtić, our MMA would host in October a working meeting of heads of all military medical academies in the region to discuss and review further advancement of cooperation at both professional and scientific level.
 
This year in November, Serbia would again organize the two-day Course dedicated to ''Emergency Military Neurology and Psychiatry'', the event that would bring together around 25 participants from the BMMC members states.