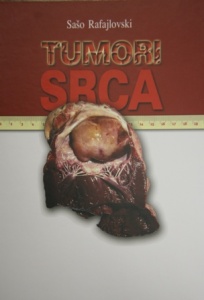 Book on Heart Tumors
12. 03. 2010
Belgrade, March 12, 2010 – Professor Dr. Sašo Rafajlovski, an expert from the MMA's Clinic for Emergency Internal Medicine, is the author of a professional scientific work, a book titled ''Heart Tumors' which meticulously and thoroughly deals with a very rare cardiological and oncological disease, which is, until recently, poorly studied. The author of this publication, a top scientist and perfect practitioner, got into such a comprehensive and difficult project to collect and properly systematize as much information as possible about the heart tumors. 
The largest portion of his work, Prof. Rafajlovski dedicated to identification of those tumors, their timely diagnosing and efficient treatment as well.
The book is meant to serve as a contemporary student-friendly textbook. Its separate chapters provide the general characteristics of heart tumors, benign and malignant primary tumors of the heart, pericardium, and large blood vessels in adults and children as well as secondary tumors occurring in various parts of the body. It conveys in-depth analyses of diagnostic and therapeutic procedures with a final focus on purposefulness and importance of prevention.
The book also delivers data obtained through the MMA's clinical practice, which are objectively presented, analyzed and compared with the outcomes of researches conducted worldwide. Due to non-specific symtomatology of all types of tumors, they are, even today, difficult to be detected in a timely manner, even though they are identified in almost one-quarter of patients with disseminated malignant diseases. Heart tumor treatment is primarily the responsibility of a cardiosurgeon, and therapeutic approaches are given a special concern in terms of their constant improvement as to allow for a necessary systematic therapy
This book is designed to serve as the both textbook and manual, as well as a special reference for physicians meeting in their everyday practice with heart tumor cases. It is illustrated by a large number of carefully chosen photographs of heart tumors with all macroscopic and microscopic observations and findings.