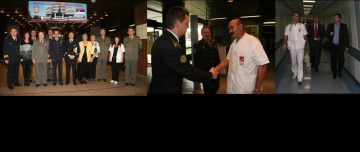 Bridges of European Military Medical Cooperation
08. 10. 2010
Belgrade, October 08, 2010. – The MMA's intensive international activities continued to take place these days at the Military Medical Academy with the aim of establishing and enhancing cooperation in the domains of military medicine and health care. That was the reason for the visits of delegations of the Italian Armed Forces Medical Services, Ukraine and Albanian Ministries of Defense.

The two delegations of the Armed Forces Medical Services, Italian and ours, were   led by Col. Dr. Vincenzo La Gioia and Col. Prof. Dr. Nikola Filipović, the MMA's deputy head.   Brief introduction into capabilities and achievements of the Military Medical Academy in the areas of treatment, preventive medicine, pharmacy, scientific research and education, and a tour of several organizational units of our institution were followed by discussions on possibilities of enhancing cooperation between the two countries in the domains of medical and health care with particularly expressed interest in plastic and endoscopic surgery and preventive medicine 
 
The high-ranking delegation of the Ukraine Armed Forces Medical Services headed by Col. Prof. Dr. Anatoli Sudrak, the deputy head and Chief Surgeon of the General Military Hospital, had fruitful discussion with the head of the MMA's Group of Surgical Clinics, Col. Prof. Dr. Nebojša Stanković and his associates. During their visit to the Military Medical Academy, the guests could raise their awareness of the organizational structure and accomplishments of the MMA's Surgical Service, discuss the possibilities and negotiate modalities of future cooperation, particularly in the area of medical management of mass catastrophe casualties.

The four-member delegation of anesthesiologists from the Military Hospital in Tirana was also in the visit to the Military Medical Academy. Lieutenant-Colonel Dr. Ivo Udovičić briefed the guests from Albania about the capabilities of our Clinic for Anesthesiology and Intensive Care. ''We highly recognize the Academy, your achievements and worldwide recognized results achieved in all fields of medicine. We are willing to extend our cooperation in the future to include fields other than Anesthesiology and Intensive Care medicine', said LtCol. Dr. Zhurda Tefik, and expressed his gratitude for a warm welcome and reception.