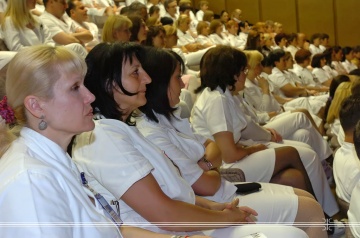 Celebrated the International Nurses Day
14. 05. 2012
The Military Medical Academy hosted the International Nurses Day in the MMA's Amphitheater, held each May 12th. The ceremony was attended by Serbian Minister of Defence, Dragan Šutanovac, State Secretary in the Ministry of Defence, Dr. Zoran Vesić and the Assistant of the Minister of Health, Dubravka Šaranović.  
 Congratulating the International Nurses Day, Minister Šutanovac expressed his contentment with the invitation to attend this ceremony after five years. He shared the plans concerning the formation of the Nurses College in a time manner as well as the initiative for the amount of a salary from 6 to 10 percents has been brought into the consideration.
 
-Thanks to the accomplished pension reform, we have created much more efficient pension fund. Unfortunately, Military Social Insurance Fund functioning within the framework of the Ministry of Defence left the debt of about 75 million euros to our Heath Insurance Fund. However, our Fund is very vital today and thanks to it, I can announce further equipment of not only Military Medical Academy but also military hospitals in Niš and Novi Sad- Minister Šutanovac said, adding the fact that the number of medical nurses necessary in the treatment process has been planned to increase.  
 
-The future of nursing depend the most on investment in continuous education and training of the medical nurses. That is why continuous medical education of the medical nurses and technicians represents one of the MMA's investment priorities. It is accomplished with a permanent organization of accredited courses, seminaries and congresses at the Military Medical Academy as well as various forms of professional training in the country and the world- said the Head of the Military Medical Academy.
 
The attendees had the opportunity to hear also the assistant of the Minister of Health, Mrs. Dubravka Šaranović who congratulated the Day to all Serbian medical nurses on behalf of the Minister of Health, Prof. Dr. Zoran Stanković.
 
On this occasion, the MMA awarded three medical nurses: Snežana Stupar-Petko from the MMA's Clinic for Emergency Clinical Toxicology as the Nurse of the Year, Snežana Petrović from the Clinic for Cardiosurgery as the Best Nurse of the Surgerical Clinics group and Gordana Gajić from the Clinic for Hematology promoted as the Best Nurse of Internal Clinics.
 
The 12th May is celebrated as the International Nursing Day to commemorate the birth of Florence Nightingale, a heroine who, after the end of the Crimean War during which she was actively involved by bringing care to the wounded and sick soldiers, as soon as she returned home to England, established her renowned school of nursing and devoted her whole life to the fight for improving and advancing nursing profession. Therefore, a considerable part of the Nursing Day celebration ceremony taking place at the Military Medical Academy was devoted to the portrait and work of Florence Nightingale.