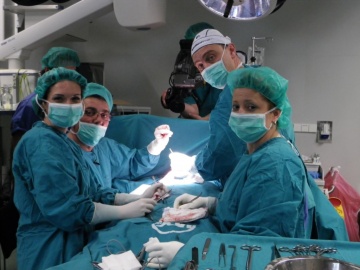 Chief of MMA visiting Clinical Hospital Centre Zagreb
16. 04. 2011
Following the invitation of the Chief of Institute for Plastic Surgery, Docent Dr Davor Mijatović, Colonel Professor Dr Marijan Novaković, Chief of Military Medical Academy, visited the Rebro Clinical Hospital Centre in Zagreb on April 16th, 2011, where the III Workshop of Croatian Breast Cancer Academy was held under the organization of Alergan Company.
Professor Novaković responded to the invitation to held a presentation on MMA's achievements in the domain of reconstructive breast surgery and to apply the method of reconstruction with skin muscle Latissimus dorsi lobe and silicone endoprosthesis on a patient who had her right breast removed seven years ago because of a malignant procedure.
Other members of MMA's surgical team lead by Professor Novaković were Major Assistant Dr Sc. med. Nenad Stepić, Dr Milica Rajović, Major Mr Sc. med. Saša Milićević and nurse Slađana Nikolić.
Listeners at the workshop were given the possibility of interactive video participation in the operation and conversation with Professor Novaković, who commented on the entire operative technique on that occasion.
This traditional convention was attended by around 70 listeners and participants from a large number of European countries.