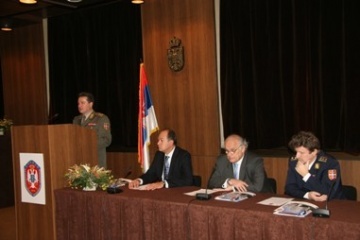 Chronic pain treatment
07. 02. 2010
The meeting of the Neurosurgical Section of the Serbian Medical Society on chronic pain management was held at the Military Medical Academy. More than 80 neurosurgeons and physicians of other profiles from Serbia attended the meeting organized by the MMA's Neurosurgery Clinic.

The MMA's head Major General Prof. Dr. Miodrag Jevtić opened the meeting reminding the guests present on that occassion that a chronic pain was, in fact, the most common reason patients visited a doctor. He reiterated that the Military Medical Academy was open to all leading national and regional medical institutions for cooperation and, due to its multidisciplinary potential, it was the right place for holding meetings on such issues.

The meeting was presided by the president of the Neurosurgery Section, Prof. Dr. Vaso Antunović, the president of the Neurosurgical Association of Serbia, Prof. Dr. Miodrag Rakić and the head of the MMA's Neurosurgery Clinic, Col. Prof. Dr. Zoran Roganović.

Col. Prof. Dr. Zoran Roganović, in his introductory remarks, referred to the definition and classification of chronic pain syndromes and different treatment modalities. The meeting proceeded with lectures by the leading experts in those fields who spoke about the most common syndromes in Neurosurgery. Prof. Dr. Danica Grujičić and Prof. Dr. Miroslav Samardžić from the Serbian Clinical Center's Neurosurgery Institute, presented their experiences and recommendations on management modalities for pain syndrome caused by the peripheral nerve damage. Prof. Dr. Đorđe Jajić from the Neurosurgery Clinic of the Vojvodina Clinical Center and Prof. Dr. Ivan Stefanović, the head of the Neurosurgery Clinic of the Nis Clinical Center spoke about causes and treatment methods for the most common pain syndromes involving cervical and lumbar spine. Colonel Prof. Dr Branislav Antić from the MMA's Neurosurgery Clinic presented the advanced neurosurgical treatment options for trigeminal neuralgia and the treatment of the pain and painful spasms by spinal cord stimulation and implantation of analgesic pumps. LtCol. Dr. Slobodan Ćulafić from the MMA's Radiology Institute shared his experience in the treatment of spinal pain by epidural spinal blockade and LtCol. Dr. Milenko Savić proceeded with presenting his own rich experience as well as the experience of the MMA's Neurosurgery Clinic's Spinal Team in the treatment of spinal pain syndromes with the most advanced spinal implants.
During the rich discussion session following the introductory lectures, treatment modalities and the sequence of therapeutic procedures in the treatment of chronic neurosurgical pain syndromes were discussed.