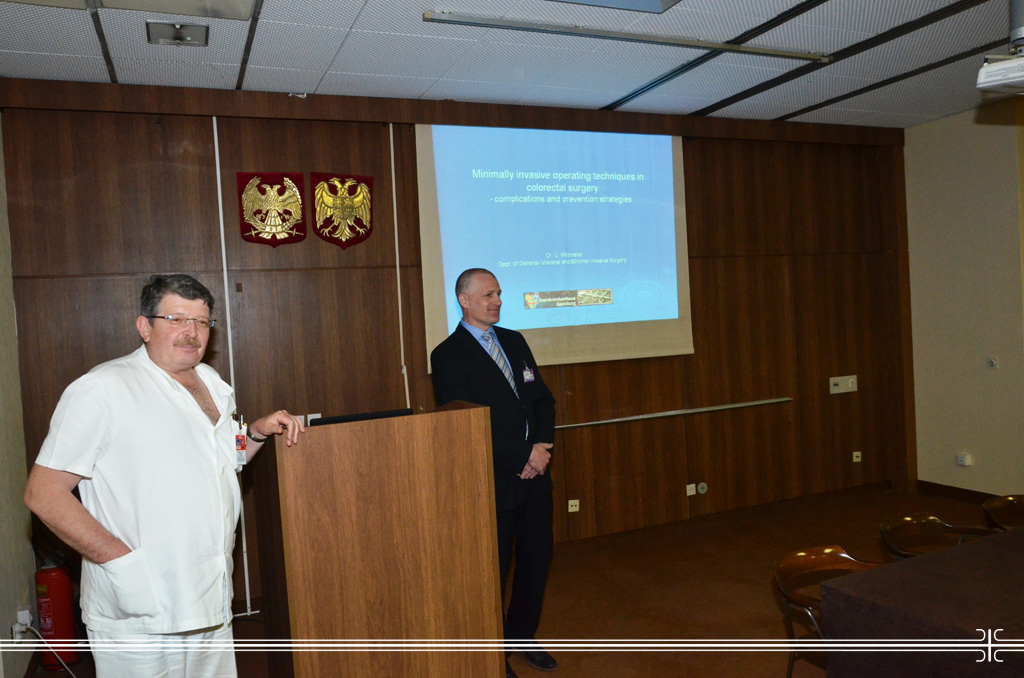 Colorectal Surgery News
08. 05. 2013
One of the leading professionals in the area of laparoscopic surgery Prof. Dr. Uwe Widmaier, head of the Surgical Clinic of General Hospital, Ginsburg, Germany attends two-day visit to the Clinic for General Surgery, Military Medical Academy.
Prof. Dr. Widmaier, specialist in surgery and visceral surgeon is also the European instructor for colon surgery and Serbian Medical Society's Surgical Section member of honor. In course of the visit which included performance of colorectal operations assisted by the MMA surgeons, Professor Widmaier delivered the lecture having for the topic complications prevention in case of minimally invasive colorectal operative techniques.
Lecture attendees were introduced with different types of complications from the lecturer rich experience, as well as the measures of the first symptoms prevention and identification. Although laparoscopic surgery demonstrates numerous advantages in case of treatment of both benign and malignant disorders i.e. clear sightedness, minimal infections, esthetic effect, a classic open surgery remains a gold standard concerning colorectal surgery, said Prof. Widmaier.
He also mentioned the other factors relevant for successful laparoscopic procedure as appropriate choice of patients designated for operation and preparedness and efficacy of surgical team.
This event is the result of prosperous collaboration between Military Medical Academy and General Hospital in Ginsburg, which hosted Dr. Damijan Slavkovic from the MMA Clinic for General Surgery during his last-year medical training.