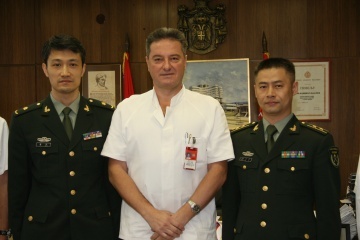 Continuation of successful cooperation between China and Serbia
16. 09. 2008
Belgrade, September 16 - Within the framework of advanced medical training program, the members of the Medical Services of the People's Liberation Army of the People's Republic of China Li Feng and Guo Jia Xi would be staying for a month at the Military Medical Academy. During their stay, doctor Li Feng would be offered the training opportunities   in the field of plastic surgery and burns, and Mr. Guo Jia Xi a chance to build his awareness on the  management, organizational principles  and the way this mega complex system such as MMA  is operated.
Guests from China were received by the MMA head Major General Prof. Miodrag  Jevtić, MD, PhD and his associates. Having offered them a warm welcome to the Military Medical Academy, General  Jevtić said that he  was convinced that  Chinese colleagues would have a lot to learn at the Academy, adding that cooperation between two Military Medical Services would continue to  improve for the benefit of both sides as it had been agreed during the last week discussions with the representatives of the top-level  leadership of the PRC  People's Liberation Army.
Intensified military medical cooperation of those two countries was initiated last year when Chinese doctors, during their study tour of the Military Medical Academy, had an opportunity to learn about the experiences and work of the experts from the MMA Clinic for Orthopedics and Traumatology and the MMA experts paid return visits to some of military medical centers in the People's Republic of China.