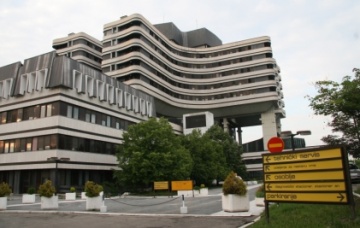 Continuation of the Successful Cooperation between MMA and OPCW
28. 10. 2009
Belgrade, October 28, 2009 – The delegation of the Organization for Prohibition of Chemical Weapons (OPCW) in The Hague composed of managers of the OPCW Medical Department Stephen Neault i Franz Ontal, paid a visit to the Military medical Academy and reviewed with the responsible representatives of our institution all the aspects of two-year long cooperation in the field of education and training of the OPCW personnel at the Academy.
After cordial welcome offered by the deputy head of the Military Medical Academy Col. Prof. Dr. Nikola Filipović, the members of the delegation had talks with the representatives of the MMA's Poison Control Center, Clinic for Plastic Surgery and Burns and the Clinic for Anesthesiology and Intensive Care.
The cooperation with the Military Medical Academy, as assessed by the OPCW representatives, produced significant results in training its members to rapidly respond to medical emergencies as well as in acquiring new knowledge and gaining new experiences.
The guests from The Hague expressed their satisfaction with the education program, organization and the way those training courses are run, the working conditions at the Military Medical Academy and the expertise and professionalism of all teaching and medical personnel involved in that process.