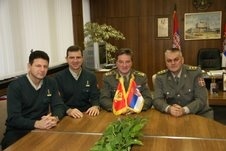 Cooperation between Medical Services of Serbia and Montenegro
05. 12. 2008
 Belgrade, December 5 - The delegation of the Montenegrin Medical Services led by Col. Predrag Maraš, MD payed a visit to the Military Medical Academy to discuss with the MMA's top management members about possibilities of establishing cooperation in the field of treatment, education and training of medical personnel and scientific'research work. The MMA head Major General Prof. Miodrag Jevtić, MD, PhD received the guests from Montenegro. He stressed that the Military Medical Academy as the brand of the Armed Forces and its state is strategically committed to the advancement of regional and international cooperation at all lelvels adding that medicine knows for no administrative barriers and human health is an universal category.
Representatives of the Montenegrin Medical Services Management Col. Predrag Maraš, MD and Col. Srboljub Đorđević, MD expressed their satisfaction with the previous cooperation with MMA as the Balkan leader in the field of medicine. They also pointed out that cooperation with this institution in the field of tretment of military patient population, education and training of medical personnel and their potential deployment to peacekeeping missions are of strategic interest of the Medical Services of Montenegro. They also stressed the necesity that this cooperation at the institutional level should be formalized by signing the Cooperation Protocol. They toured as well the Emergency Center, Clinic for Anesthesiology and Intensive Care, Outpatient Diagnostic Clinic and the Center for the Same Day Surgery.
During the next day, the representatives of the Montenegrin Medical Services would pay a visit to the MoD Health Department and its organizational units and meet as well with the director of the Military Social Security trust Fund.