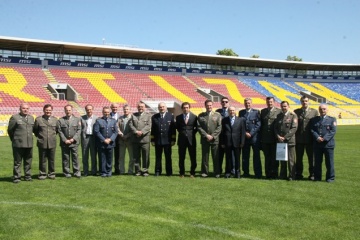 Cooperation between the Military Medical Academy and FC Partizan
24. 04. 2009
On April 24, 2009, the MMA's delegation led by its head Major General Prof. Dr. Miodrag Jevtić visited the Football Club Partizan.  Cooperation between those two institution  exists for  several decades to the satisfaction of both sides. 
The MMA's delegation was hosted by the president of the Club Mr. Dragan Đurić and his associates. They discussed the modalities of cooperation and signed the Protocol on continuation of cooperation in the next period.
On that occasion, the MMA's delegation made a tour of the official premises of the Club, the trophy room, football stadium and Training Center in Zemun.
Addressing the host and his colleagues, the MMA's head  said: '' We have accepted  with  great pleasure the invitation to visit your Club, which, in spite of  those difficult times, achieves top results and manages to recruit younger generations. As the members of our Armed Forces we are happy to be involved in the historical development of the Partisan Club, and our two institutions of national importance represent today strategic brands of our country''.
The president of the FC Partizan, Mr. Đurić expressed his great satisfaction for having the opportunity to host the MMA's delegation in their Club, and stressed that there was a strong and close connection between those two institutions. He also said that he expected to see their cooperation much more strengthened and improved in the future what would be of mutual interest.
At the end of the visit, the MMA's head and the president of the FC Partizan exchanged the presents.