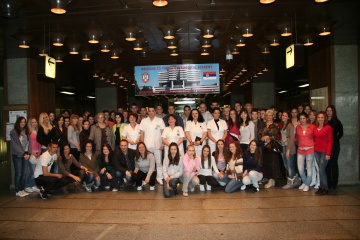 Cooperation of Military Medical Academy and high schools of medicine in Serbia
04. 05. 2011
With meetings with pupils and graduate students of high schools of medicine in Serbia and with their teachers, Military Medical Academy is continuing its successful cooperation with these institutions, which has turned into a nice tradition that MMA cherishes for a number of years. 
MMA hosted one such meeting with teachers and pupils of 3rd and 4th grades of Novi Sad Medicine High School on Wednesday, May 4th this year. After the documentary on MMA, which enabled the students to get a clearer image on the organization structure, activities, capacities and potentials of MMA, they organized visits to MMA institutes, to institutes for medical biochemistry, microbiology and transfusion, and to the National Poison Control Centre, considering that these were students from the Department of laboratory technicians.
After a visit to these organization units, there was a discussion during which impressions were summed up, many questions were asked, and teachers also gave some suggestions for provision of microbiology preparations and existing presentations in order to improve and promote school's practical classes.
Students from medical high schools from Čačak (May 10, 2011) and Niš (23.05.2011) will come for a visit to MMA by the end of the month.