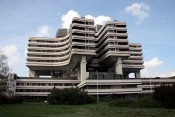 Cooperation of the Military Medical Academy with health spa centers in Serbia
07. 02. 2010
The Military Medical Academy has intensified its cooperation with health spa centers in Serbia on the treatment, prevention and rehabilitation in the various fields of medicine.   Cooperation with special hospitals ''Sokobanja'' and ''Bujanovacka banja' was established last year, while discussion with delegations of   special rehabilitation centers ''Ivanjica'', and ''Kanjiža spa '', and the special hospital ''Zlatar'' have been underway these days to consider  cooperation in the fields of orthopedic surgery and traumatology, neurosurgery, neurology, physical medicine and rehabilitation, cardiology, pulmology and gastroenterology are under way these days.  

Protocols on Cooperation will precisely define future forms of cooperation, which will include joint work in finding solutions to medical problems, cooperation in the field of education and work on joint preventive projects dealing with cardiovascular diseases, malignant diseases and hygiene-diet programs.
 
The Military Medical Academy has thus confirmed, once again, its openness within the civil-military cooperation framework, and showed practically its presence in every part of the Republic of Serbia.