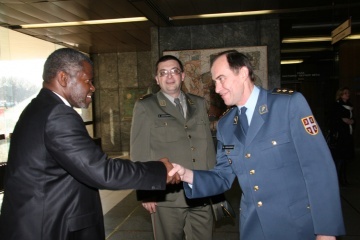 Cooperation with colleagues from the Kingdom of Qatar
06. 02. 2009
 Belgrade, February 6 - The representatives of the National Committee for Prohibition of Chemical Weapons of the Kingdom of Qatar paid an official visit to the Military Medical Academy. The purpose of the visit was to build their awareness of the MMA's organizational structure, organization of work, main activities and the capacities of the Poison Control Center.
The delegation was composed of Brigadier General Nasser Abdullah Al-Sulaiti, Captain Mohammed Jumah Al-Kuwari, Mr Hassan Mohd Al-Emadi and Mr. Mohammed Moustafa Al-Sayrafi who is in the visit to our country as the guest of the Ministry of Defence and the Armed Forces of the Republic of Serbia.
Upon the warm welcome offered by the MMA deputy head Col. Prof. Nikola Filipović, PhD, the guest were introduced into the MMA's background, organizational structure andactivities in the fields of health care, scientific-research work and education and the activities, capacities and specifics of the Poison Control Center as well. By making a short tour of some of the Center's organizational units, the delegation could have a direct insight into the capacities, equipment, organizational structure and scope of work the Poison Control Center is dealing with.

In the discussions, the both sides exchanged experiences their countries gained on the implementation of provisions of the Convention on Prohibition of Chemical Weapons. They also addressed the ways of overcoming organizational and professional problems in cases of eventual terrorist attacks or chemical accidents of larger scales. An intention to further develop professional cooperation was expressed. The delegation member were particularly interested in sharing our experiences relating to the establishment and equipping of the multifunctional chemical-toxicological analytical laboratory like the one which, for years, operates successfully within the framework of the MMA's Poison Control Center.