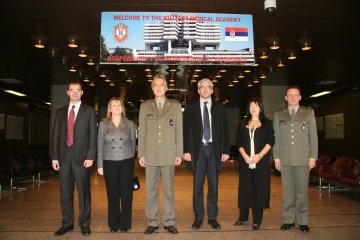 Cooperation with the European Union - Implementation of Convention on Prohibition of Biological Weapons
07. 11. 2011
The Delegation of the EU Geneva Office, composed of Dr. Lorna Miler and Mr. Frank Meusen paid a visit to the Military Medical Academy. The aim of their visit was the continuation of cooperation in the field of implementation of Convention on Prohibition of Biological Weapons.
The Delegation was received by the head of the Epidemiology Institute, Col. Prof. Dr.
Radovan Čekanac
and his associates. He expressed his satisfaction with previous bilateral cooperative relationship, and briefed the delegation on all the activities carried out so far.
Since the potential use of biological agents has become a global threat, what imposed the need for closer cooperation in that field, he reiterated once again the importance of implementing the Convention on Biological Weapon Prohibition, and added that the MMA had the intention to continue to develop its resources and capacities in that direction.
The
implementation of Convention on Prohibition of Biological Weapons, the national legislation-related issues, conditions for biological security and safety as well as the annual report on confidence building measures were the topics both sides thoroughly discussed.
The EU delegation expressed its contentment with previous cooperative activities and the results achieved so far in this area of concern. The education and training of relevant personnel, raising the awareness of the importance of this problem coupled with the intention to incorporate this activity into the civil-military cooperation framework were the things the delegation was particularly satisfied with.