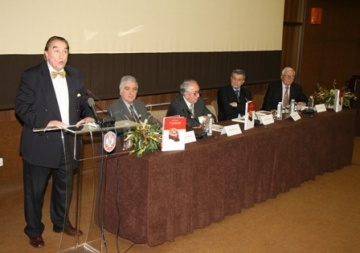 Creative Contribution to Serbian Cardiology
22. 04. 2010
Belgrade, April 22, 2010. - The Military Medical Academy hosted the event devoted to the promotion of the book titled ''Heart Tumors'' by Prof. Dr. Saša Rajfalovski, a cardiologist from the MMA's Clinic for Emergency Internal Medicine.
The book makes an extremely valuable contribution to understanding of pathogenesis, diagnosis and treatment of this very rare cardiac and oncologic disease, which is, until recently, poorly studied.
This book is meant to serve as both a contemporary textbook and manual for physicians and medical students.
The book contains data obtained through the MMA's clinical practice, which are objectively presented, analyzed and compared with the outcomes of researches conducted worldwide.
Renowned Serbian physician and Academician Prof. Dr. Vladimir Kanjuh, retired General Prof. Dr. Momčilo Krgović, retired colonels Prof. Dr. Nedo Nunić and Prof. Dr. Vujadin Tatić spoke about on the author and the book. On behalf of the MMA's head, the present to the event were warmly welcomed and addressed by Assist. Prof. Dr. Elizabeta Ristanović, who stressed that the promotion of the Prof. Rajfalovski's book is a magnificent event important to all representative of the medical profession. Profession and science give us knowledge, and a man who experiences the truth has a need to pass it on to others. That is the way how words are created, and then made into books. So, practicing medicine implies writing as well, passing professional-scientific information in a written word form on to others. It is our necessity and obligation! – pointed out Dr. Ristanović wishing Dr. Rajfalovski many more such happy events.
There were numerous doctors from the Military Medical Academy and other healthcare facilities in our country attending this event, which was, in artistic sense, magnified by the representatives of the Belgrade National Theater, actress Rada Đuričin and prima donna Suzana Šuvaković.