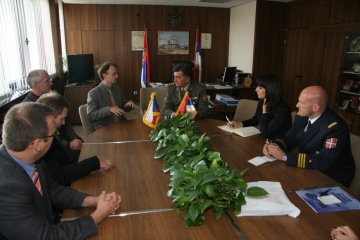 Czech Delegation at the MMA
02. 11. 2011
The Delegation of the Institute of Sport and Physical Culture of the Czech Republic Ministry of Defense led by Dr. Libor Soumar has paid a visit to the Military Medical Academy today. The visit was carried out within the framework of the bilateral international cooperation in the area of NBC protection.
The Czech delegation was received by the the MMA's head, Col. Prof. Dr. Marijan Novaković who expressed his contentment with previous cooperative military medical activities. He also stressed the importance of sports medicine to the Defense Ministry personnel, and said that the Military Medical Academy had the intention of developing its capacities to improve this important branch of medicine.
During the visit, the delegation toured the Department of Physiology of strains of Preventive Medicine Sector's Hygiene Institute, where they were briefed by the head of the Department, Prof. Dr. Sonja Radaković on methodology of testing physiological fitness in barochamber, and personal cooling systems the soldiers use for prevention of heat stress during their missions conducted in hot environments.

The guests were also informed about the results of scientific research in this field conducted at this MMA's Hygiene Institute through 3 current projects:
- Testing of impact of acclimatization to psychophysical adaptation of soldiers to extreme temperatures in relation to genetic polymorphism in APOE i BDNF (MMA's Project)
- The use of nanomaterials for the improvement of respiratory and percutaneous protection under ecological imbalance caused by radioactive, chemical and biological contamination (The project of the Ministry of Science and Technological Development for 2011-2014 period).
- Contribution to the enhancement of combat readiness of the Serbian military troops by improving physiological fitness under conditions of high-toxic contamination and high ambient temperatures (The project of the Ministry of Defense Planning and Development Department).