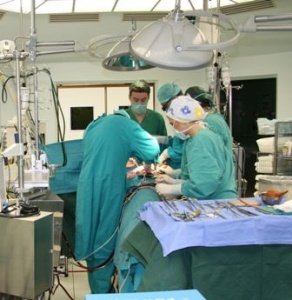 Deeds and Words
16. 04. 2010
Belgrade, April 16, 2010 – Thanks to organized multidisciplinary approach of the MMA's Emergency Center and surgical team on duty composed of Major Momir Šarac, a vascular surgeon, medical officer Goran Turković, M.D., and Major Nenad Stepić, a plastic surgeon, a complicated surgical procedure and reconstruction surgery were successfully performed on Mr. P.M., a 42-year-old man, who was admitted to our institution with the left arm severely affected by trauma.
After 4-hour surgery, the MMA's surgical team succeeded in reconstruction of the injured structure, thus saving severely injured arm from eventual amputation, and preserving its vitality postoperatively.
Once his general condition is stabilized, other surgical interventions, deemed necessary to achieve complete revitalization of the left hand, are to be performed in the course of his further treatment.
The MMA's Management Board is extremely proud of such professional contribution MMA's young experts are giving to further affirmation of its Surgical School.