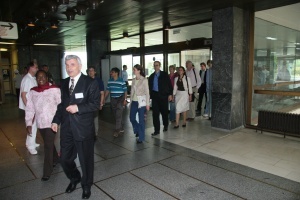 Delegation of Organization for prohibition of Chemical Weapons (OPCW) visit to the National Poison Control Center (NPCC)
19. 06. 2008
Belgrade, June 19 - The National Poison Control Center was visited by participants of the OPCW member states national bodies 7th Regional Meeting taking place in Belgrade, from 03rd to 05th of June 2008.

Delegates from 24 Eastern European countries led by Mrs. Kalimi Mworia, a director of the Sector for International Cooperation and Assistance to OPCW in the Hague, and the ambassador Bratislav Djordjevic, a national coordinator for implementation of Convention on Chemical Weapons Prohibition were introduced by the heads of NPCC organizational units into NPCC organizational structure and its legal obligations relating to prevention, diagnosis, medical  treatment of consequences of chemical (toxic) agents harmful effects. During 2-hour discussion, the guests could learn about the methods this Center as the only specialized institution of clinical toxicology in both our country and its surrounding applies in executing its missions aimed at protecting health of people from effects of the individual or mass use of toxic chemicals. The delegates took the advantage of that occasion to make a short tour around clinical and laboratory facilities and to discuss, in direct communication with physicians and analysts, actual issues of spontaneous or provoked chemical incidents.

In conclusion, both Mrs. Mworia and the ambassador Djordjevic emphasized the importance of having institutions such as NPCC and underlined that, in preventing harmful effects of peacetime and other toxins, establishment of cooperation at wider, regional and international levels is crucial. They also welcomed previous involvement of the Military Medical Academy and National Poison Control Center in running educational courses for OPCW medical inspectors who periodically visited MMA during their last year's 2-week internship.