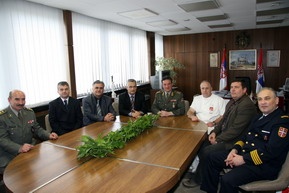 Delegation of the Banja Luka Clinical Center in the visit to the MMA
23. 04. 2009
Delegation of the Banja Luka Clinical Center led by its head, Prof. Dr. Mirko Stanetić was in the working visit to the Military Medical Academy.
''Welcome to the Military Medical Academy, the house of health which is open and willing to cooperate in all the fields of treatment, education and scientific-research work'', sad the Head of the Military Medical Academy, Major General Prof. Dr. Miodrag Jevtić.
During the visit, the members of the Banja Luka Clinical Center's delegation were introduced into the MMA's organizational structure and functioning, diagnostic and treatment capabilities and educational and scientific–research potentials as well. Possibilities of further advancement of cooperation between those two institutions were also discussed.
Guests from Banja Luka were particularly interested in cooperation in the fields of transplantation surgery, burn treatment, emergency and clinical toxicology. They also said that the cooperation should be extended to include fields such as education and engagement of MMA's teachers in the teaching process.
The delegation members were then taken to a tour of some MMA's organizational units: Emergency Center, Emergency Toxicology Clinic and Anesthesiology and Resuscitation Clinic.
Expressing his sincere gratefulness for the warm welcome and constructive dialogues, the head of the Banja Luka Clinical Center, Prof. Dr. Mirko Stanetić said: ''The Military Medical Academy is the institution which enjoys a great reputation and trust among the citizens of the Republic of Srpska who would never forget unselfish professional assistance and support  it has provided to them during difficult war times as well as the readiness of its medical experts to share their knowledge and skills with others what is particularly highly valued and appreciated by physicians from the Republic of Srpska. We are really honored to be here today, at the institution which is a leader in the Balkans not only in the field of medicine, but in the domain of ideas and visions, Thank you for your warm welcome and hospitality.
In the end, presenting the head of the Banja Luka Clinical Center with the MMA plaque,   General Jevtić said: Let's this plaque decorate your institution and be the pledge for continuation and constant improvement of cooperation which has been initiated in difficult times,  endured all the challenges and has only one direction –forward, in the service of the health of our peoples.