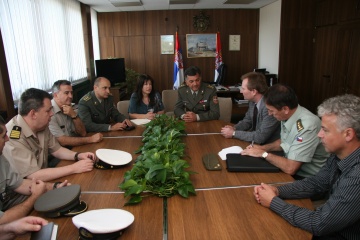 Delegation of the Military Health Service of the Ministry of Defence of the Czech Republic visits the MMA
27. 06. 2011
A three-member delegation of the Military Health Service of the Czech Republic, including Dr. Roman Blanar, Vice-Dean for Foreign Affairs and Development at the Faculty of Medicine, University of Defence, Lieutenant Colonel Dr. Jaromir Vopršal, Head of the Veterinary Service and envoy of the Defence of the Czech Republic to Belgrade, has recently visited the Military Medical Academy. The goal of the visit was to consider the options of continuation of the already established bilateral military health cooperation, initiated by MMA in the field of education, scientific research and toxicology. The guests showed great interest in extending this cooperation to other fields of common interest, including exchange of experts and joint work on scientific research projects. Preventive medicine is listed as one of these fields.
After the reception at Head of MMA Colonel Prof. Dr. Marijan Novaković, representatives of the Czech Delegation had cordial and open talks with their MMA counterparts, Colonel Assistant Professor Dr. Dragan Dinčić, Deputy Head of MM, Colonel Pfor. Dr. Predrag Romić, Head of the Education and NIP Sector, military officer Prof. Dr. Slavica Vučinić, Head of the Poison Control Centre, military officer Prof. Dr. Sonja Radaković, Head of the Institute for Hygiene. Afterwards they saw a documentary on MMA and presentations on its potentials in the field of education, scientific research, the national Poison Control Centre and the Preventive Medicine Sector, in order to gain better insight in the options of establishment of this cooperation. The guests demonstrated willingness to share with us their precious experience gained in peacekeeping operations, mentioning the possibility of joint participation. On the other hand, they were interested in our potentials and capacities for acting in cases of accidents and mass disasters.
After the talks, the guests had a chance to make a tour of MMA organisational units and see with their own eyes everything they were told during the talks.
The visit ended with an agreement and promise that both sides will submit all the suggested ideas about potential cooperation to the competent authorities of the Ministry of Defence, in form of a proposal, for further consideration and adoption.