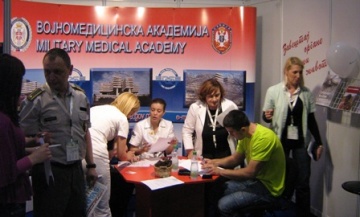 Donate Organs- Prolong One's Life
18. 05. 2010
Belgrade May 18, 2010- The Military Medical Academy actively participated in the 'Health Fair' held in Belgrade on May 14-16, 2010. During the Fair, our capabilities in the sphere of treatment, education and scientific research were presented. A special focus was placed on Transplant program and importance of organ donation promoted under the motto '' Donate Organs- Prolong One's Life!''. During the fair, 70 persons signed the donor cards.
The MMA's experts including surgeons, urologists and nephrologists signified the medical importance and humane and ethic dimensions of organ donation to the fair visitors.
Colonel Prof. Dr. Zoran Kovačevi, the head of the MMA's Nephroogy Clinic delivered a lecture on organ transplantation.