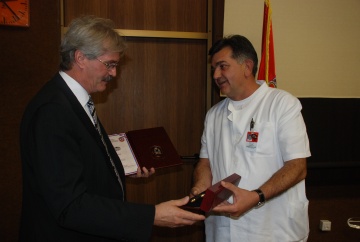 Dr. Gregorič Promoted into the Visiting Professor at the Military Medical Academy
29. 09. 2011
Igor Gregorič, a cardiosurgeon
and the Chief of Transplant Service and Director of Mechanical Circulatory Support for St. Luke's Episcopal Hospital at the Texas Heart Institute delivered the lecture on ''Heart Transplantation and Mechanical Circulatory Support'' at the Military Medical Academy. On that occasion, the MMA's head, Col. Prof. Dr. Marijan Novaković awarded Dr. Gregorič the plaque, thus, promoting him into the visiting professor at the Military Medical Academy.
Dr.
Gregorič,
one of the leading experts in cardiosurgery, upon graduation from the Medical School in Ljubljana, served a part of his military service in the former JNA at the MMA's Reserve Officers School, at the Emergency Medicine Clinic, and that is something he proudly mentions in his CV. Since 1984, he has lived and worked in Houston, in one of the most renowned and recognized cardiosurgical institutions in the world.
He has authored or co-authored some 200 papers published in leading medical and scientific journals. He had the opportunity to present a great number of them at numerous international scientific and medical events and congresses.
He is also a personal consultant to the Slovenian Minister of Health.