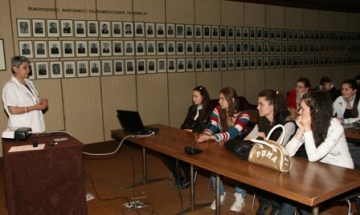 Education and Science: Investment in the Future
09. 08. 2010
Belgrade, August 09, 2010. – Education and scientific-research are the fields to which the Military Medical Academy pays great attention, and in which it has   cultivated significant collaborative relationships with local and international coleagues. In addition, scientific-research results are applied and valorized in daily clinical practice. However, the teaching-scientific workforce of the Military Medical Academy is populated by 26 full-time and 49 associate professors, 45 assistant professors and 45 assistants, 1 scientific advisor 2 senior research fellows, and 6  science fellows. All their activities are coordinated and directed by the MMA's Teaching-Scientific Council.  In addition to their professional work and lecture-room activities at the School for Advanced Medical Studies, professors, assistant professors and assistants along with all other MMA's members are involved in the work on 63 currently ongoing scientific-research projects at the Military Medical Academy which cover diverse  areas of medicine. Out of that number, 57 are clinical and 5   basic research projects. A part of their teaching activities is focused on teaching residents and  designing and running educational courses.
 
There are currently 171  individuals undergoing various  advanced  residency training programs. Apart from 5 international residents the others are either members of the Defence System or healthcare facilities in the Republic.

Since the beginning of the year, 18 residents have passed the specialist exam; the 97th Class of the Medical Services Reserve Officers School and 95th Class of the Veterinary Service Reseerve Officers School have completed their educational programs. Various forms of education and training ranging from 2-week to 6-month training  programs have been completed by 73 individuals, whilst, another 36 individuals  are currrently undergoing advanced medical training; successful cooperation with the  OPCW is continued, and 6 OPCW inspectors underwent and completed 2-week educational course run at the MMA's Poison Control Center  this year. Within the framework of cooperation with nursing schools in Serbia, a Course for the First Aid instructors has been organized.
In the following period, the Mlitary Medical Academy will host as well several-day educational courses for the members of the Military Health Services  and colleagues from civilian healthcare fasicilities. The lectures  would discuss topics related to novelties in the treatment of acute smoke and fire gasses toxicity, civil-military medical partnership in mass catastrophy and disaster situations, diet therapy for diabetes and cardiovascular diseases, rational pharmacotherapy, malignant skin tumors, ect.

So far, 320 students from Serbia and 4 students from Italy, France, Great Britain and Germany have completed practical training at the Military Medical Academy  in the course of this year. Professional and scientific events hold in the country were attended by 70 individuals, while those abroad by 74 MMA's members.

As far as the international military medical cooperation plan for the following period is concerned, it anticipates further professional development and training of  the MMA's experts in the medical centers in Japan, the Czech Republic, Great Britain and the USA in the areas of intensive care of critically-ill patients following organ transplant surgeries; application of MRI in the diagnosis of specific diseases; digestive oncological surgery, and new methods of investigating mechanisms of highly toxic activity of  chemical compounds and antidotes.
 
The ongoing organizational restructuring of the MMA's Center for Organization and Tactics,  its turning into Medical Services Training Center with perspective to grow into Regional Military Medical Training Center,  would provide possibilities and conditions  for extending the scope and content of various training programs.