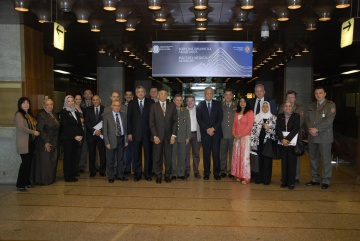 Egyptian Minister of Health in the visit to MMA
09. 05. 2012
Within the framework of its official visit to the Serbian Ministry of Health, the delegation of the Ministry of Health of the Arabian Republic of Egypt, led by Minister Dr. Fouad Nawawy, visited Military Medical Academy on May 9, 2012.

The head of the Military Medical Academy, Brigadier General Prof. Dr. Marijan Novaković, described the visit of a high-ranking medical delegation to the Military Medical Academy as a confirmation and a stimulus to the cooperative relationship existing between two countries and in the medical field as well. He pointed out that promotion of international medical cooperative activities provided conditions for creating important contacts and opportunities for sharing the latest achievements and knowledge and indicated their impact on the quality of healthcare services. There is a good military medical cooperation existing between the Egypt and the Ministry of Defence of the Republic of Serbia, the integral part of which the Military Medical Academy is. It includes the training specially tailored for Egyptian medical nurses, which they completed at the MMA's Clinic for Physical Medicine and Rehabilitation in June last year, Brig. Gen. Novaković emphasized.

Minister Nawawy said that this visit represented a great opportunity to introduce them into wide array of the MMA's activities with a focus on the treatment, education and scientific research, adding that this military hospital has earned a great reputation in Egypt.

In a further course of the visit, a short tour of MMA hospital is organized in order to introduce the Egyptian delegation into its capacities and work organization.