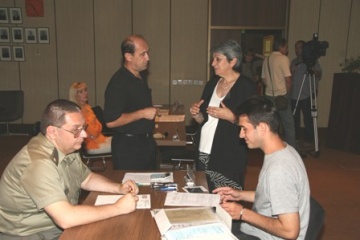 Enrollment in the MMA's School for Advanced Studies is completed
16. 07. 2009
Belgrade, July 16 - The enrollment of the first-year students in the MMA's School for Advanced Studies who passed the entrance examination and met all admission requirements was completed. The entrants of the MMA's Advanced Studies School , ten young women and eight men, were given a warm welcome by the MMA's head, Major General Prof. Dr. Miodrag Jevtić. In addition to congratulations on the achieved results, the students were thoroughly informed about the obligations they are to take from the September 1, already.

The academician, Col., Prof. Dr. Miodrag Čolić, acting dean of the MMA's School for Advanced Studies, also congratulated the students wishing them success during their studies and expressed the hope that one day they would make top experts who would duly represent the Serbian medicine and be committed to safeguarding and promoting the health of people.

Sine the will have the status of the military servicemen, the students will, prior to the beginning of the school year, undergo military-professional training from 1- 25th September, aimed at raising their awareness of the specifics of the military organization and gaining knowledge and skills required for their studies.

During the training period, the students will have the opportunity to be introduced into the life and work of the military community, basic rights and duties, measures for preserving core social and military values in current social trends, measures for safeguarding the environment and people's health as well as the main tactical-technical data of the weapons, measures for protection of installations, material-technical means and personnel, traffic rules and regulations and traffic safety measures and basic military training.

During that same period, the students will build their awareness of the organization and functioning of the Military Medical Academy, visit institutes and clinics where the practical training will take place, meet their future professors and mentors who would closely monitor their work throughout the entire six-year study period and provide them support and assistance. The MMA's teachers will present to the students the detailed study program.