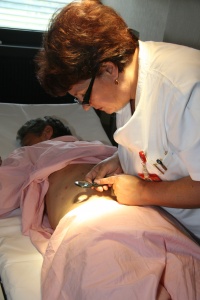 European Day of Skin Cancer Prevention "ЕUROMELANOMA 2011"
16. 05. 2011
On May 16th, 2011, traditional European Day of Skin Cancer Prevention "EUROMELANOMA 2011", was organized at the Cabinet for Skin Diseases and Sexually Transmitted Diseases of the Diagnostic Policlinic Centre of MMA. 
Euromelanoma is a skin cancer prevention campaign organized by dermatologists from the entire Europe under the sponsorship of the European Academy for Dematovenerology (EADV). In our country, it is being conducted under the organization of Serbian Association of Dermatovenerologists, and under the sponsorship of the Ministry of Health of Republic of Serbia.
The program of free dermatology control of birthmarks and other knobs (tumors) on the skin is regularly conducted as part of this campaign. Motto of this year's campaign was Save Our Skin (SOS), and goals were to offer a free screening for skin cancer to interested citizens, to offer information about risk factors, signs and symptoms of a melanoma in the starting rage, damaging effect of the sun on the skin, and to give advice on how to protect yourself from its damaging effect. Appropriate flyers were made for this occasion under the sponsorship of Eucerin.
Checkups at the Military Medical Academy were conducted by doctors from the Clinic for Skin and STD Diseases. 69 interested citizens came in for previously scheduled checkups, and 13 of them had registered clinically undefined skin tumors; two with basal cell skin carcinoma, and five with changed pigmentation around the birthmark. All the patients with registered changes on their skin were sent to the surgeon for removal of the tumors and their histopathologic verification.