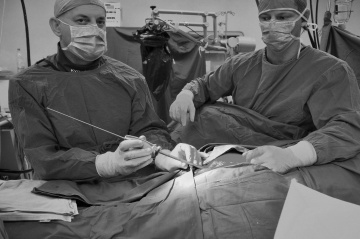 First percutaneous vertebral stabilisation procedure in our country conducted at MMA
08. 04. 2011
Belgrade, 8 April – The spinal team of the Neurosurgery Clinic of MMA (Military Medical Academy), led by Lt Col Dr Milenko Savić, head of the Instrumented Spinal Stabilisation Department at the Neurosurgery Clinic of MMA has successfully performed a percutaneous vertebral stabilisation procedure, the first of the kind in our country.
 
We are talking about a unique, minimally invasive surgical procedure, which is performed without regular surgical incision, with special instruments, by which the diseased part of the spine is approached via a puncture on the skin, the diseased segment of the spinal vertebra is removed, while the spinal cord is fused, stabilised and fixed. After a surgical intervention of this kind, the patient can get up on the same day, more precisely several hours after the surgery.

This procedure is used in the treatment of degenerative diseases of the spinal cord, abrasion and ossification of the spine, which are usually manifested in pain in the lower part of the back while standing or walking.
 
Over the past ten years, the Neurosurgery Clinic has applied numerous surgical procedures in the treatment of various diseases of the spinal cord, which are full harmonised and adopted to the latest global trends and principles of spinal disease treatment.