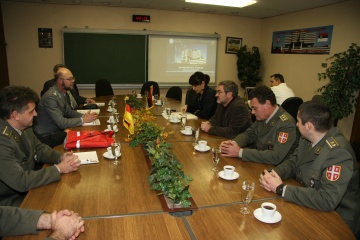 German Delegation at the MMA
08. 12. 2011
The delegation of the Federal Defence Ministry of Germany led by the commander of the Official Dog Training School in Bundesware, LtCol. Urlih Dresler paid a visit to the Military Medical Academy.
After short introduction into the organization of the MMA's work by the head of the Medical Research Institute, Prof. Dr. Zvonko Magić, the German delegation was taken to a short tour around the Istitute. There, they were briefed about the research projects under way, technology they apply as well as the organization of work in Vivarium and the premises where the animal experiments are conducted. In addition to their interest in researches, the guests were interested as well in the economical aspect of the Vivarium and its operation, including cooperative relationships with the Pharmacy Institute and civilian institutions.
The German delegation got positive impressions because of the possibilites of working on complex research projects in the same institution through cooperation between clinical physicians and researchers. They reaffirmed their commitment to continue a concrete cooperation with both the Military Medical Academy and the Veterinary Department.