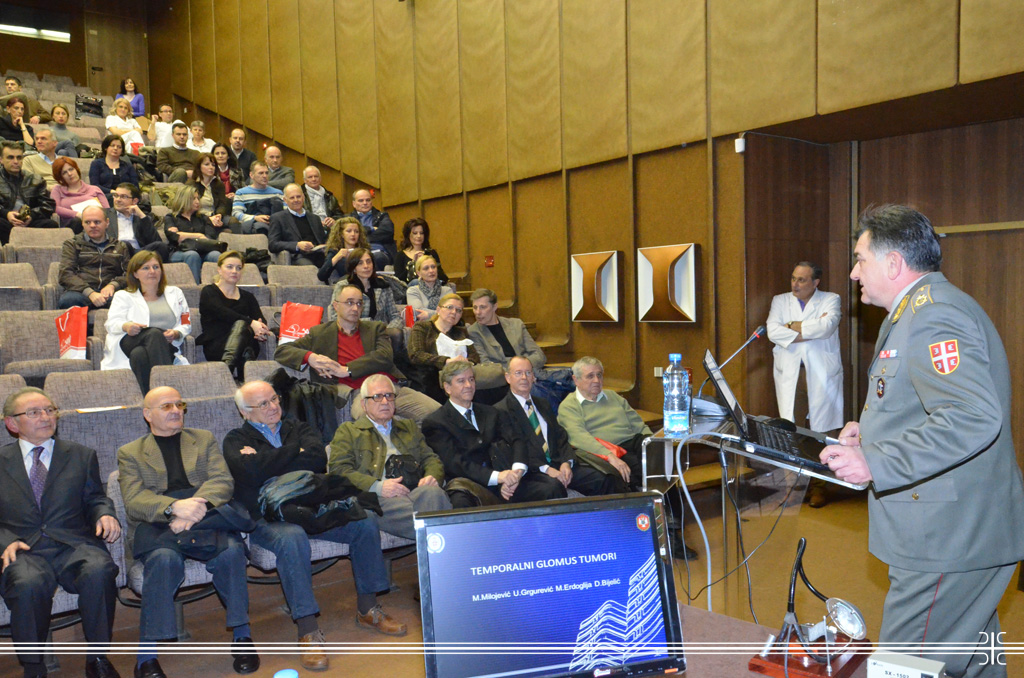 Glomus Tumors of the Head and Neck
01. 04. 2013
Medical Meeting of Serbian Medical Society's ENT Section carrying the title "Glomus Tumors of the Head and Neck", under organization of the MMA Clinic for Otorhinolaringology took place at the Military Medical Academy.
Offering a warm welcome, the MMA Head Brigadier General Prof. Dr. Marijan Novakovic pointed out multidisciplinary approach, particularly needed in case of diagnostics and treatment of these uncommon tumors. Close collaboration between different medical specialists is present starting from diagnostics to surgical removal, as well as medication and radiation treatment.
Announcing the scientific part of the meeting by the Head of the MMA Clinic for Otorhinolaringology Colonel Dr. Dusan Bijelic, the lectures delivered on that occasion covered a broad range of important clinical information in the field of glomus jugulare tumors which are rare- one patient out of million, but characteristic by expansive and destructive growth. They are seen in adults, typically between 50 and 60 years of age, with a moderate female predilection.
During the lectures presented by Head of the MMA Clinic for Maxillofacial Surgery Prof. Dr. Srboljub Stosic, Lt. Col. Dr. Milanko Milojevic, from the MMA Clinic for Otorhinolaringology, Major Dr. Aleksandar Jovanovski and Major Dr. Vlastimir Marinkovic, from the MMA Radiology Institute, the attendees had opportunity to get some theoretical information as well as to see clinical case studies.