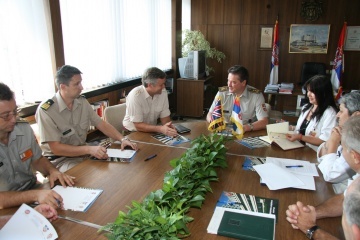 Great Britain expressed a great interest in the MMA project on regional cooperation
30. 07. 2008
 Beograd, July 30 - The Project on Regional Military Medical Training Center that Military Medical Academy offered within the framework of SEEC program (Forum for providing assistance to the countries of Southeastern Europe) was the purpose of the visit paid to MMA, on 29.07.2008, by Col Nigel Fen, a defence attaché of the Great Britain accredited to Belgrade.
The head of the Military Medical Academy Maj.Gen. Prof. Miodrag Jevtic, MD, PhD, together with his medical team introduced the guest into the main MMA activities in the fields of patient care, educational development and scientific-research work. He stressed that MMA could offer the best conditions for education in the region in addition to its remarkable potentials for civil-military cooperation.

Col. Fin was particularly interested in our educational medical programs and available capacities, which MMA could offer within the framework of regional cooperation. The head of the Sector for Education and Scientific-Research Work Prof. Mirjana Životić-Vanović, MD, PhD, pointed out that knowledge, qualification, experience, equipment, spatial capacities as well as continuous education of MMA experts were the main arguments on which the proposed project on regional cooperation was based on. It included educational programs in various fields of military medicine, treatment of casualties in mass catastrophes and natural disasters situations, training of medical teams in operating a light field hospital, residency or other programs that might be of interest to the region. She reiterated full capability of MMA in offering high quality educational programs.

It was agreed to meet again and let the British side consider, in the meantime, to what extent it could support the offered MMA project.