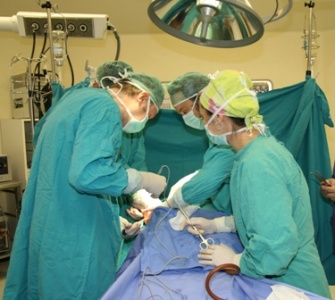 Great Stimulus for the Young MMA's Urologists
21. 10. 2009
Belgrade, October 21 – The Military employee Dr. Vladimir Bančević from the MMA's Urology Clinic was awarded for successful presentation at the 5th Eastern European Urology Congress recently held in Belgrade under the auspice of European Association of Urology
In that paper, Dr. Bancevic and his colleagues presented the results of the expert team from the MMA's Urology Clinic. The team is led by Col.. Prof. Dr. Novak Milović and deals with investigation of orthotopic urinary derivations after cystectomy. That paper will be presented at the forthcoming European Congress to be held in Brussels 2010.
During the Congress, the MMA's urologists were very successful in presenting their achievements in the fields relating to the treatment of complications associated with the kidney transplantation, diagnosis of the prostate carcinoma, diagnosis at the molecular level, monitoring of the bladder tumor and surgical treatment as well as treatment of patients with metastatic testisicular tumor
The Vice-president of the European Urologic Association Prof. Dr. Kris Chapel from Great Britain took an active part in the work of Congress. He made a tour of the MMA's Urology Clinic and expressed on that occasion his satisfaction with the way the Clinic is organized, the quality of its work and the results our experts had achieved. In the discussion with the Head of the Clinic, Col. Prof. Dr. Novak Milović and his associates, he considered the possibilities for professional development and improvement of the MMA's urologists in eminent European centers, organization of joint education courses and lectures as well.
It represents one more affirmation and significant recognition to the MMA's Urology School, which has a long tradition, as well as a great stimulus for the young physicians from the MMA's Urology Clinic who are, in addition to their daily routine clinical activities, actively involved in the scientific-research work.