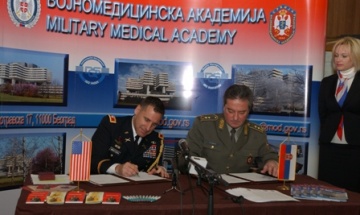 HIV/AIDS Prevention within the Serbian Armed Forces
28. 10. 2010
Belgrade, October 28, 2010. – Within the HIV Prevention Program framework, today, at the Military Medical Academy, the MMA's head, Maj. Gen. Prof. Dr. Miodrag Jevtić and the US Defense Attaché accredited to Serbia, Col. Pol Brocen signed  a Protocol on Equipment Donation in the total value of 74000 $. Those resources would be allocated towards the development of laboratory infrastructure for diagnosis of the disease and procurement of equipment and material required for carrying out main   disease-related prevention activities.

The US Ministry of Defense HIV Prevention Program implies joint work with the Armed Forces of other countries on raising their full awareness and prevention level, what includes provision of training and consultation services and organization of promotional campaigns.
 
The signatories of this Agreement stressed the specific importance of that donation and   overall military medical cooperation established between those two countries.
 
''We have recognized the MMA as a partner in the region of Southeastern Europe.  It guarantees by its capabilities, achieved results and gained experiences   that  our cooperation boasting  rather long tradition, and being revitalized over the resent years, would be even more successful in the future not only in the domain of the   Protocol- related main issue,  but in the other fields of military medicine'', said Col. Brocen, the US Defense Attaché

The MMA's head, Maj.Gen. Prof. Dr. Miodrag Jevtić thanked on behalf of the Republic of Serbia Ministry of Defense to the US Ministry of Defense for the valuable donation, and once again confirmed   readiness of the MMA for cooperation in all fields of medical science and profession that would be carried out within the bilateral cooperation framework.