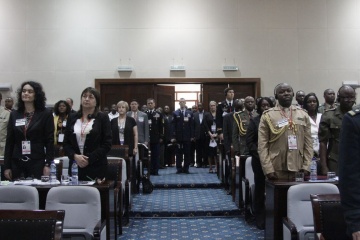 HIV/AIDS Prevention and Treatment in Mozambique
17. 05. 2012
Military Medical Academy's representatives attended the International Military HIV/AIDS Conference titled "Re-energizing HIV campaign" organized by Armed Forces of Mozambique and USA'sDepartment of Defense HIV/AIDS Prevention program. The event was held on May 7-10 in Maputo, capital of Mozambique.
 
About 390 participants coming from 75 countries engaged in military partnership against HIV/AIDS were gathered for the Conference. The military leaders, medical professionals, representatives of non-governmental organizations and academic society shared their experiences concerning practical skills in the field of prevention and treatment of HIV/AIDS within the military population.
 
Plenary presentations, interactive discussions, workshops and poster sessions were among the ways the MMA's professionals Prof. Dr. Vesna Šuljagić and Dr. Radmila Rajić- Dimitrijević presented the efficient and sustainable response on HIV epidemics, developed within the framework of Serbian Armed Forces.