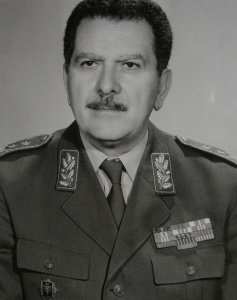 IN MEMORIAM LtGen. Prof. Vladimir Vojvodić, MD,PhD, (1930-2008)
27. 08. 2008
 Belgrade, August 27 - On 27.08.2008, retired Lieutenant General Prof. Vladimir Vojvodić, MD, PhD, ex head of Military Medical Academy and Yugoslav Armed Forces Medical Services died of a severe disease he suffered from for a long time.
General Prof. Vladimir Vojvodić, MD, PhD was born on 27.02.1930, in Cetinje, where he completed his secondary education in 1948. He graduated from the School of Medicine in Belgrade, in 1956. His PhD degree he earned in Belgrade as well, in 1964.
In the course of his career at the Belgrade Military Medical Academy, he was first appointed as an assistant professor (1964), then an associated professor (1970) and, afterwards, a full professor of pharmacology and toxicology (1975)
Within the framework of graduate studies, he taught at Military Medical Academy and Schools of Medicine in Belgrade, Sarajevo, Ljubljana and Zagreb and School of Chemical Engineering in Belgrade. He served various commanding and managerial positions in the Yugoslav Armed Forces Medical Services such as deputy head of the Military Medical Academy, head of the Military Medical Academy (for five years), and head of the YAF Medical Services (upon his promotion into the rank of Lieutenant General in 1988). He was retired as an assistant chief of the YAF General Staff for science and research in 1993.
He was also a president of the Yugoslav Toxicology Association, head of the Poison Control Commission of the Public Health and Social Policy Committee of the Federal Executive Chamber and a member of publishing and editorial boards of national and international publications: Vojno delo, Pharmaca, NBC Chemical Defence and Technology, Medical Corps International. As an expert for chemical warfare agent-related medical problems, he was the Yugoslav representative to the UN Committee on Disarmament in Geneva from 1972 to 1982.

The World Health Organization (WHO) appointed him as a consultant for toxicology issues in 1975.
He participated in several international congresses and symposiums
His professional field of practice covered military pharmacology and toxicology but he was especially concerned with medical protection against NBC weapons. He was the author of more than 150 scientific and medical papers published in both national and international magazines. He was a regular member of the Medical Academy of the Serbian Medical Society, an honorary member of the Montenegrin Physician Association, and a regular member of the British Pharmacological Society. On November 19th, 1993, he was appointed as an associated member of the Montenegrin Academy of Sciences and Arts (MASA) and, on December 6th, 1996, he became its regular member.
He was awarded the 22nd December prize twice, the Charter of the Serbian Medical Society as well as numerous various distinctions, charters, prizes and recognitions.
The actual head of the Military Medical Academy Major General Prof. Miodrag Jevtić, MD, PhD, and the MMA Management Board highly appreciate and recognize unselfish professional and human contributions and support General Vojvodić was giving to MMA and its staff to the last day of his life and express their condolences to the family and friends of diseased general.