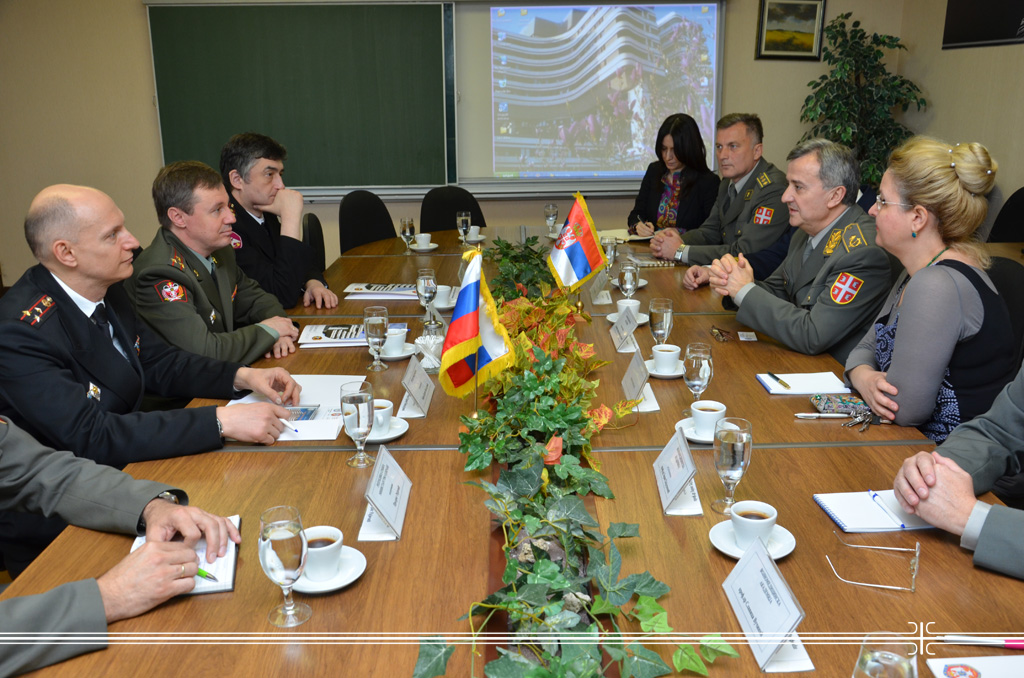 Important Cooperation Potential with Russia
18. 04. 2013
Delegation of Main Military Medical Department of the RF Defence Ministry and St. Petersburg VMA composed of three members and led by Colonel Prof. Dr. Alexander Nikolajevic Grebenyuk paid a visit to Military Medical Academy.
MMA Head Brigadier General Prof. Dr. Marijan Novakovic indicated on significant respect the Serbia is demonstrating to military medical accomplishments in Russian Federation and reminded that our side is open and ready for further cooperation improvement. He invited Russian representatives to join 3rd ICMM Pan European Congress on Military Medicine scheduled to take place in Belgrade during June 2-6, 2014.
Head of the MMA Sector for Education and Scientific Research Colonel Prof. Dr. Predrag Romic and Dean of the Medical Faculty operating within the framework of the Military Medical Academy Brigadier General Academician Prof. Dr. Miodrag Colic presented the work of the Academy with a special emphasis on education related information, i.e. MMA Medical Faculty.
Colonel Grebenyuk agreed with cooperation potentials concerning that Russian military medical system and VMA have similar working methods with those applied in Serbia. He also pointed out that Russian VMA situated on several state locations, among them the one biggest in St. Petersburg, has a tradition almost three centuries long and gathers seven medical schools, as well as that both sides can use this opportunity to share valuable experience and knowledge.